Daily Blog - Tiger Software

September 5, 2007

How To Find A BioTech Boomer Early On
Part 1 of a 10 part series.

Back to Home Page
__________________________________________________________________
Index of All Tiger Blog Topics

If you like our stock market insights, think how
much you will like our Software and Hotline.
www.tigersoft.com

People have asked me to write a Daily Blog.
They seem to want me to give them a thought
or two each day. About what? Well, we'll just
have to wait and see. As, I see it, a blog is a
personal statement. I will try to make it enter-
taining and relate it mostly to the stock market.

I do promise not to belabor the obvious. So,
I hope these thoughts, reflections and finds are
worth your time. I will give you my best.

Send any comments or questions
to william_schmidt@hotmail.com

9/5/2007 How To Find A BioTech Boomer Early On
The Beginning of A Multi-Part Series on Biotech Investing.


As "baby boomers" age and retire, some biotechs will surely boom, too. In the US there are more
than 75 million baby boomers.

Biotechs are manic. They seem to fluctuate widely. There are long periods during which few
of them advance and most drift lower. And there are exciting periods, often spurred on by a well
publicized breakthrough and a block-buster drug. After AMGEN discovered and got FDA approval for
two blockbuster drugs, Neopogen and Epogen, in early 1991, other biotech stocks went wild.

The 20-year chart of Fidelity's Biotech (FBIOX) fund is shown below. In it you can see all of the
advance in prices came in 2 important surges: 1989-1992 and 1998-2000. Technically speaking,
a chartist would have bought early in 1990, never mind that there were two steep general market
declines that year, and sold when Amgen shareholders met in 1991 to celebrate their good fortune.
His profits would have been 300% in a year and a half. The breakout by FBIOX in December 1998
was the second point of important entry. Early in 2000, just as Greenspan was reappointed by Clinton,
FBIOX had achieved a triple again. Except for those two episodes that took up less than 3 years
in the 20 year period, FBIOX was either going sidewise or down. The FBIOX seems to go into
dormant periods lasting 7 or 8 year. So a new move up is due. One more thing, you can bet on:
the Democrats, if they take the White House in 2009, are going to increase public funding of stem
cell research. This will bring publicity to these companies' prospects and overseas' biotech
companies' successes. I would not wait until November 2009 to buy a biotech. I would anticipate
this development.






Now as we look at the Tiger chart of FBIOX below we see it is approaching a series
past peaks at 69. A breakout above that level would be bullish. Not as bullish as a
breakout into all-time high territory, but still very bullish. The Tiger chart of FBIOX
(Fidelity Biotech) shows that a breakout has already taken place when FBIOX is
compared with the DJI.




I have observed that Biotechs are often a place where hot money goes when it
is starting to get nervous about the market. The collapse of many housing and mortgage
stocks has cast a pall on may sectors of the stock market. But tech stocks, and biotechs
are starting to get a play. How do we decide which stocks to buy? That is the subject of
the next few blogs.

One of the easiest approaches is to simply see what stocks Fidelity has invested
in. Yahoo reports their 10 biggest holdings, as last reported. Right now these are their
holdings.
| | |
| --- | --- |
| TOP 10 HOLDINGS ( 67.38% OF TOTAL ASSETS) | |
| | | | |
| --- | --- | --- | --- |
| Company | Symbol | % Assets | YTD Return % |
| AMGEN | AMGN | 20.68 | -21.33 |
| GENENTECH INC | DNA | 8.34 | -8.32 |
| BIOGEN IDEC INC | BIIB | 8.13 | 14.94 |
| GILEAD SCIENCES | GILD | 7.42 | 14.68 |
| CELGENE CP | CELG | 5.80 | 5.27 |
| CEPHALON INC | CEPH | 4.95 | 6.72 |
| ALEXION PHARM INC | ALXN | 3.77 | 44.00 |
| VERTEX PHARMACEUT | VRTX | 3.04 | -13.68 |
| PDL BIOPHARMA INC | PDLI | 2.68 | 16.63 |
| OSI PHARMACEUTIC | OSIP | 2.57 | -7.8 |

Tiger lets us easily graph these stocks.


AMGN - Amgen ... On Buy... Top System's Gain = 58.3%





DNA - Genentech ... On Buy... Top System's Gain = 56.2%
Decisive breakout past blue 50-day ma.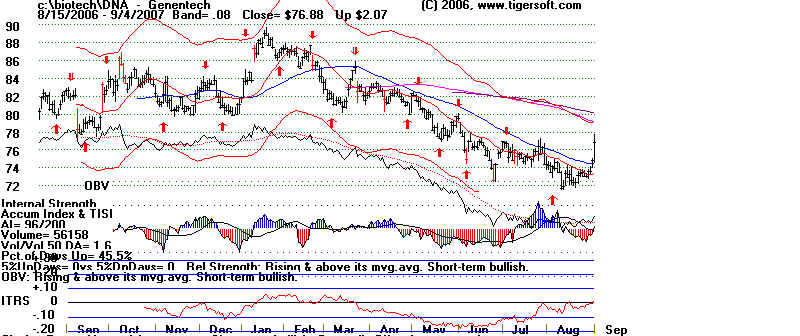 BIIB - ... On Buy... Top System's Gain = 50.1%
Strongest of these. Shows most blue from Tiger's Accumulation Index.





GILD - Gilead Sciences ... On Buy... Top System's Gain = 50.1%





CELG - Celgene ... On Buy... Top System's Gain = 58.1%



CEPH - Cephalon ... On Buy... Top System's Gain = 82.6%
Watch - back to the resistance of its nest key mvg. avgs. other than 50-day ma




ALXN - Alexion ... On Buy... Top System's Gain = 106.2%
Powerful up move today!





VRTX - Vertex Pharm ... On Buy... Top System's Gain = 104.6%


PDLI - Protein Design Labs ... On Buy... Top System's Gain = 149.5%





To Be continued.. This is the first of a long series on Biotech Investments
Biotech Jokes, Cartoons and Tidbits To Talk about.
Genetics Savings and Clone, charges $1000 to collect and cryogenically store cells from a family cat or
dog, and $250,000 to clone it.

Gene Patents Prevent Research

"A few years ago, UCLA geneticist Wayne Grody was working hard to help deaf children. Grody
was conducting clinical tests on Connexin 26, a human gene linked to deafness, hoping it would lead to
more effective treatment for kids. Then one day he received a letter from Athena Diagnostics, a
Massachusetts-based biotechnology company. Grody says the letter informed him that Athena owned
a patent for the Connexin 26 gene -- and he could no longer perform tests on it himself. Instead, he would
have to pay thousands of dollars up-front and send future gene samples to Athena for testing. He had no
choice. "I had to stop," Grody says. "The cost was out of sight." The clinical tests ground to a halt."
-- Source: Michael Crowley, "They Own Your Body" Readers' Digest, August 2006 --
http://72.14.253.104/search?q=cache:bndLkT3qcsUJ:www.rd.com/content/thats-outrageous----patenting-human-genes/+biotech+joke&hl=en&ct=clnk&cd=6&gl=us&client=firefox-a )


Biotech Personals



I've been single-stranded too long! Lonely ATGCATG would like to pair up
with congenial TACGTAC.

Menage a trois! Ligand seeks two receptors into binding and mutual
phosphorylation. Let's get together and transduce some signals.

Some dates have called me a promotor. Others have referred to me as a real
operator. Personally, I think I'm just a cute piece of DNA who is still
looking for that special transcription factor to help me unwind.

Highly sensitive, orally active small molecule seeks stable well-structured
receptor who knows size isn't everything.

There must be a rational way to meet a date! I'm tired of hanging out in
those molecular diversity bars, hoping to randomly bump into the right
peptide. I want a molecule that will fit right into my active site and
really turn me on. I'll send you my crystal structure if you send me
yours!

Gene therapy graduate. After years of producing nothing but gibberish, I've
shed my exons and am ready to express my introns. All I need is a cute
vector to introduce me to the right host.

My RNA, I'm sorry I misread your UAAUAAUAA and inserted three tyrosines
when you repeatedly asked me to stop. Something got lost in the
translation. Please forgive me.

Naked DNA with sticky ends seeks kanamycin-resistant plasmid. EcoR1 sites
preferred.

Uninhibited virus seeks reason to make me shed my coat protein.

This very selective oliogonucleotide has been probing for just the right
target for long term hybridization.

Mature cell seeks same who still enjoys cycling and won't go apoptotic on
me. Let's fight senescence together!

I'm a prolific progenitor with great potential for growth and self-renewal.
Call me if you're a potent hematopoietic factor who still believes in
endless nights of colony stimulation.

I don't always express myself on the surface, but I'm looking for a signal
that you appreciate my complexity. Send me the right message that will
penetrate my membranes, turn on my protein expression and release my
potential energy.