Tiger Software
Since 1981, we have been helping Professionals and the Public
around the World to Maximize Stock Profits and Avoid Devastating Declines.
Tiger Software makes Analysis of Stocks Simple, Easy and Profitable!
Watch The Insiders and The Rest Is Easy. TigerSoft's Explosive Super Stocks

2012 (C) www.tigersoft.com 858-273-5900 william_schmidt@hotmail.com

Stock Market Tops and Bottoms
ARE Predictable.

We show you how to recognize them as they occur.
Trade with the trend of the overall market, as judged by Peerless
and you will do much better.
What To Trade When Peerless Gives a Reversing Buy or Sell

Typical Peerless chart with automatic Buys and Sells,
each of which is based on very significant technical action
that has been back-tested to 1928.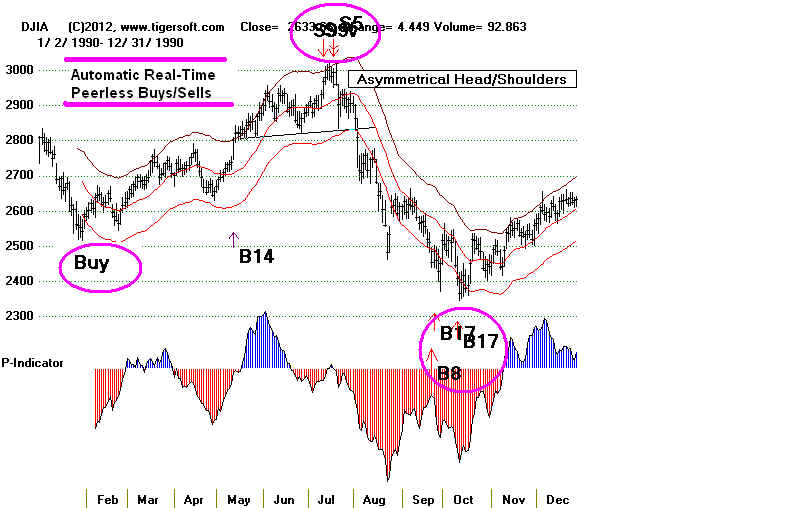 After viewing the charts here, click this link and continue to our introduction.


Make Money Stocks by Watching What Insiders Are Doing. Yahoo lists "insider trades".
But this is narrowly defined and limited to the companies' executives. We are also
interested in who is buying or selling because of what they have learned from these
corporate insiders. Their key purchases or sales become very evident when
TigerSoft is used.


Insider Selling

Stocks that are being sold heavily by insiders show:
Steady and deep red distribution from the TigerSoft Accumulation Index
at the bottom of their charts. See also the charts of SSRI, C and the DJI in 1929 below.

Sell short these when Peerless gives a reversing Sell.


.

Insider Buying

Stocks that are being bought heavily by insiders show:
Steady or high spikes of blue accumulation from the TigerSoft Accumulation
Index. Further below, see the charts of Silver in 1929 and C and SSRI in 2008.
Buy the highest Tiger Power Ranked stocks when Peerless gives a reversing Buy.




The Contrast between Insider Buying and Selling Is Often Very Clear with TigerSoft.

Contrast the insider buying in Silver in 1979 and Amgen in 1990 with the
insider selling in 1929 right before the Crash, in CitiGroup in 2008 on its way to
a dollar a share and in a typical stock, Silver Standards, last Summer, just before
it was hit by the 2008-2009 financial melt-down.

Our website shows hundreds of examples where similar insider buying
predicted a big advance and similar insider selling predicted a big decline.
Just Google "TigerSoft" "and "insider buying" or "insider selling".

How can anyone in the stock market not want to use TigerSoft to see what
insiders expect of their stock?

SILVER 1979-1980

How Spotting Insider Buying Can Help You.

See the positive spikes of Blue Insider Buying
as measured by TigerSoft's Accumulation Index
right before Silver jumped from 16 to 48 in 1980.
The Texas Hunt brothers were trying to corner the
market in silver.


Story -
The Hunt Brothers and the Silver Bubble
http://www.silvermonthly.com/182/bunker-hunts-attraction-silver-history-cornering-silver-market/
http://www.tigersoft.com/Tiger-Blogs/March-6-2008/index.html


AMGEN 1990

How Spotting Insider Buying Can Help You.

See how steadily Blue was TigerSoft's Accumulation Index
for AMGEN back in 1990. This was highlt unusual. The software
was registering the buying by doctors who saw the wonderful effects
of Amgen's two lead drugs in clinical trials. The stock rose from
$2.00 to $95 in the next nine years.


Story -
TigerSoft's Blog 9/6/2007: AMGEN's Take Off Phase: 1990-1991
How Spotting Insider Selling Can Save and Then Make You
Many, Many Thousands of Dollars.
--------------- CitiGroup Showed Massive Insider Selling in 2008 -----------

Story -
TigerSoft Blog and News Service - One Million Shares of CitiGroup Sold by Rubin and Insiders...





SILVER STANDARDS - Silver Stock Decline in 2008

How Spotting Insider Selling Can Save You Many Thousands.

Sample of a stock about to fall sharply:

See the steady red Insider Selling shown by igerSoft's Accumulation Index
before the biggest decline from 30 to 7.