Yes, Playing Biotechs Can Be A Lot Like Playing Roulette.
But TigerSoft's Power Stock Ranker Lets You Beat The House...


INSIDER TRADING





Walk up to a roulette table, place your money on a single number and the odds are only
one in 37 (European wheel) or one in 38 (American wheel) that your bet will pay off. But when you
do win, you get a big stack of chips back, 35 for every one you invested. It's like that in biotechs.
For every Amgen there are hundreds of biotechs still trying to hit it big.

The FDA has become increasingly cautions after the withdrawl of Vioxx. The FDA
approved only 17 new prescription drugs in 2006, the lowest number in a decade. This is a
major factor in the past year's weakness in biotechs.



(Source: http://www.msnbc.msn.com/id/20321830/ )




The prospects for a change in the FDA approvals' downtrend are not bright, though according
to the Pharmaceutical Research and Manufacturers of America, pharmaceutical companies have in
development 646 compounds for cancer, 146 for heart disease and stroke, 77 for HIV/AIDS and
56 for diabetes. There is a concern about the lack of new drugs for diseases without treatments.
Bush's hypocritical and anti-science vetoing of government assistance to stem cell research makes
matters much worse. Showing either his limited math skills or his very political side, or both, Bush
announced that cancer deaths had just recorded the "steepest drop ever recorded". That was just
after the news came out in 2004 that the number of cancer deaths declined by all of one half of one
percent between 2003 and 2004.


How To Trade Biotechs with TigerSoft

Still, the biotech industry is not a lottery or a game in a casino. From the investments of
perhaps $150-200 billion to date, will come drugs and vacines that will save millions of lives ultimately.
But it does take years and years of research to bring a new successful drug to market. During that time,
thousands get a preview of its effectiveness. If things go well for the company, the stock moves
up years before the final FDA approval and the first prescriptions are given. TigerSoft users
see lots of blue accumulation if things are going well. They see an uptrend even in a bear market.
And usually they see long periods of inactivity followed by brief bursts of very high volume when
a new drug's trials are formally reviewed by the Food and Drug Administration's regulatory process.

The success or failure of a new drug's clinical trials is quickly translated into movement by
the company's stock price. Consider two cases. Genentech and La Jolla Pharmaceuticals in the
same period 2002-2004.

Genentech (L) La Jolla Pharmaceuticals (R)



TigerSoft's Trading Secrets

To be successful, the biotech trader should screen stocks above their 50-day ma
for:

1) Sometimes subtle rise in relative strength - see DNA, July to December 2002.
2) Gaps with sudden changes in volume - see DNA, May 2003. (BuyB18)
3) Sudden rises in accumulation as measured by Tiger's Accumulation Index - see DNA May 2003.
(Buy B17)
4) Accumulation Index up to level we consider it a sign of "insider buying"- see DNA May 2003.
(Buy B24)
5) Price Breakout. see DNA May 2003. (Buy B10)

DNA -2002
In the bear market of 2002, DNA ran up to and backed off from the neckline - resistance
at 19-20 on sixe different occastions. Any move above should have been considered as a very
bullish sign.




DNA -2003 Breakout, Gap and High Volume over $20.

DNA -2003 - Continued
LJPC - La Jolla Pharmaceuticals - 2002


LJPC - La Jolla Pharmaceuticals - 2003

On February 13, 2003, La Jolla Pharmaceutical Company announced preliminary findings from
a Phase III clinical trial evaluating Riquent™, previously known as LJP 394, for the treatment of lupus
renal disease. "Initial assessment of the trial data indicates that treatment with Riquent did not
increase length of time to renal flare, the primary endpoint, in a statistically significant manner
when compared with placebo through the end of the study." This sentence caused the stock to drop
28 points! Buying before the Phase III trial results are released is very risky. Biotechs that are going to
report excellent Phase III trials are likely to be in uptrends even in a down market. Elsewhere we saw
this was true with Amgen from late 1989-1990.



Examples of Gaps, Volume and Tiger Accumulation Surges
in Biotech Stocks in 2006-2007 over $10 And Their Outcome

These are flagged as "Buy B17s and B18s with Red Price Bars". They are the first
to occur after September 2006. Both B17 and B18 must occur on same day.
(This is not to say that a Buy B17 won't work by itself or when the stock is under $3.
Look at AGEN on 3/30/2007.) The B17 and B18 should not be more than 10 days apart.
Major B10s, B12s and B24s also work well here.

Tiger's Power-Ranker flags and lists these stocks for you each night with just one command..

Look at the news for the stock. Upgrades are fine. No apparent news is even better.

ABAX 20.57 1/26/07 hit 27 on 4/16/07 ...by Augiust it had fallen back to close the gap
ACAD 13.61 3/19/61 hit 17 on 4/4/2007 ... Dipped back to 12.5 and retested 17..
ACL 129.77 2/8/2007 hit 144 on 4/27/07... Dipped back to 130 and re-tested 145.
AGIX 12.06 1/5/2007 hit 19.9 on 2/15/07/ Then declined down to 2! It's 50-day ma never turned up.

AMRI 12.58 5/9/2007 hit 17 in July. Closed gap down to 11 in August and re-tested lows.
Jeffries & Co. changed their rating for the chemistry services and drug-discovery company to buy from hold.




ARTC 39.69 4/13/2007 hit 60 in August. (See chart below).
Lazard upgrade to buy from hold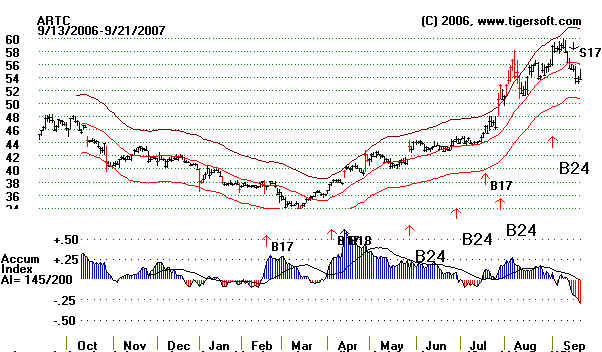 New Drug Approvals By Year (A work in progress)
I think there is a need for a simplified master list of new drugs getting approval. I have started building
such a list below, along with refernces to news items about the FDA for each year, starting in 1990. The materials
below will be expanded, as time permits. This will also allow us to see how readily one can make money investing
in companies when they finally DO get approval for new drugs..

Non-Generic
Year FDA Approvals
------- -----------------
2007

September 14, 2007 Evista, Lilly's osteoporosis drug for use in reducing the risk
of invasive breast cancer. The approval covers postmenopausal women with osteoporosis
and postmenopausal women at high risk for invasive breast cancer.

April 6, 2007, Shire and its newly acquired subsidiary—New River Pharmaceuticals—
won final approval from the U.S. Food and Drug Administration (FDA) last month to market
lisdexamfetamine (Vyvanse) for treatment of attention-deficit/hyperactivity disorder (ADHD) in
children and adolescents aged 6 to 12.



FDA more cautious after Viozz was pulled. Rejecting or delaying
more new drugs. Through mid-August 2007, the FDA has approved 61
percent of drug applications, down from 73 percent in the same period
of 2006.

FDA staff now realize new drugs will be used by many patients beyond
those intended — known as off-label use because the drug is taken for
another condition than the one it was approved to treat. That often boosts
the chances that some patients will be harmed by side effects.

But the caution causes deaths, too. The DC Court of Appeals has ruled that
patients don't have the right to potentially life saving drugs.

Diabetes drugs Avandia and Actos forced to show warning labels
about the medicines worsening heart failure. Made by Glaxon SmithKline
and Tekeda Pharm.
FDA criticized after study finds drug-related deaths doubled between
1998 and 2005. Myriad problems with the government's monitoring
of drugs before approval and after they are on the market.

Approvals for Endo Pharm.'s migraine drug was delayed for use
in preventing menstrual migraines.

Merck's Arcoxia was rejected in April It was the long-planned
successor to Vioxx.

FDA has cited safety or effectiveness questions in rejecting or delaying
approval for experimental drugs including Novartis' diabetes drug
Galvus, Sanofi-Aventis' weight-loss drug Zimulti, and even a higher
dose of GlaxoSmithKline's Advair Diskus for bronchitis and emphysema
symptoms. Also shot down: Wyeth's experimental schizophrenia drug
bifeprunox and Wyeth's Pristiq, which would have been the first
nonhormonal drug for menopause symptoms. (8/17/05 - MSNBC)

2006 17 or 18

2005 20 (new molecular entity) 36 (new fotmulations)
82 See full FDA list http://www.fda.gov/CDER/rdmt/InternetNDA05.htm

AMLN - Exenatide - 4/28/2005
Biolvail Labs - Tramadol (A happy pill!) 5/5/2005
Teva Pharm. - Metronidazole 5/20/2005
Biovail - Zolpidem - 5/26/2005
Biovail - Metformin - 6/3/2005
Sicor Pharm - Levofloxacin - 6/05/20
Celgene - Revlimid (Lenalidomide) 12/27/05


-Postponed decision of morning-after pill.
-Spring 2005, a second pain pill in the same class known as Cox-2
inhibitors, Pfizer Inc.'s Bextra, was withdrawn
-Decline is because the federal agency is exercising more caution
following the recall of the drug Vioxx in 2004, which has resulted in
more than 6,000 lawsuits after it was linked with heart attacks and strokes.
-Most frequent suspect drugs in death and "serious non-fatal outcomes"
were pain narcotics Oxycodone and Fentanyl, which are both in the
class of drugs known as opioid analgesics.
2004 29 or 36
DNA - Tarveca - treatment of lung cancer
DNA - Avastin - treatment for colon cancer
MYLAN LABS - Apokyn Research) for Parkinson's disease
ILEX Oncology - Clorar - for children with leukemia
Merck KGaA. - Sante drug for alcoholism treatment
2003 14
2002 20
To be continued.....
2001

2000

1999

1998

1997

1996

1995

1994

1993

1992

1991