Clinical Data (CLDA), A Perfect TigerSoft Biotech Play
Look at All The Insider Buying. It took some time, however.

But it took riding out the 2007-2009 bear market or coming back into
stock when a new high is made confirming the wisdom of the earlier insider buying.


2007-2009 Bear Market Interrupted Things:
CLDA is now in 2012 over $100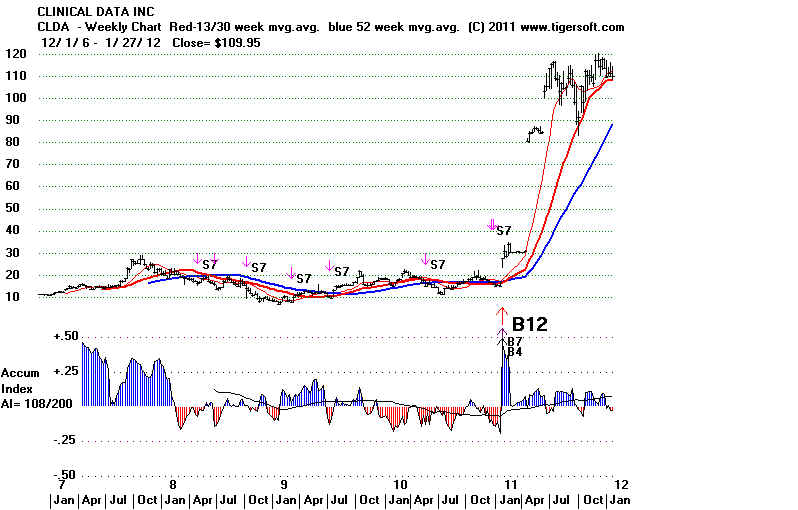 How An Investor Might Better Evaluate Such A Biotech Company.

It Looks Like A Buy Now under $35... We'll follow it here regularly and see how it plays out.

First, see how CLDA's stock was marked up for its July 2007 Public Offering of
3,450,000 Shares, yielding $71.5 million for the company. Next, Clinical Data, Inc. announced
after its public offering closed on July 23, 2007, that that the underwriters, Bear Stearns and Lazard
Capital Markets, had exercised an over allotment option to purchase an additional 450,000 shares
of common stock from the Company. Not surprisingly, it is Bear Stearns that hosted its 20th Annual
Health Care a week ago which featured Clinical Data. And to promote the stock some more,
it has announced a 3:2 stock split. It would be surprising to see this stock not at least
double from the $22 offering price, given that it seems tightly held (high and steady blue
Accumulation readings are seen in its Tiger chart below) and the company is certainly being
actively promoted to investors. Its story, as you will see, does looks good.

How To Evaluate A Biotech with A Dug In Trials

Usually when a trial's end-points are met, as was just announced, there is a very good chance
for FDA approval. That would seem to be true here. But when? The next questions are, is the
study to be trusted, when will the FDA approve it, how big a market will it serve, how much of the
revenue might this small company get, how much competition is out there? These are some of the
standard questions that can be applied to any drug in trials.

But is the drug really effective? The extent to which the benefits of this drug in trial is due to the
pharmacology is still unknown. This is because a strong 'placebo' effect in clinical trials for depression
is often very significant. A 2002 meta-analysis of 47 clinical studies comparing antidepressants against
placebo showed that a significant proportion of patients on antidepressant therapies are benefiting not
from the drug but from a placebo effect. To guard against this, the just finished study had 410 adult
patients with major depressive disorders were enrolled in a randomized,, double-blind, placebo-controlled,
ten-site trial.
1. How ethical is the company's management? Everyone remembers how Imclone lost 90% of
its value because of the insider selling by Sam Waksal-the-Weasel, its then CEO. There is
good news here with CLDA. Its CEO and major share holder, Randal Kirk, is already is a
billionaire and made his fortune in biotechs. And he recently paid $22 a share for a $45 million
dollar stake in the company. The stock is 50% higher now.



Randal Kirk - CEO of CLDA. 64 yrs. old.
A lawyer who has been in the health care business 20 years. Background.

2. Does the company have the cash to continue operations long enough to see if the FDA
will approve the drug? Evan Ballantyne, Senior Vice President and CFO of Clinical Data,
remarked, "The completion of our public offering in July (2007) which raised $71.5 million
in net proceeds for Clinical Data, provides us with the necessary capital to fund our operations
for at least the next 12 to 24 months and pursue acquisition opportunities.

3. Is the drug safe? The Clinical Trials said it was as safe as currently used anti-depressants.
This is not saying a lot. The side effects of these drugs is the main reason people stop taking
these drugs. There is also "an established direct link between suicide and violent behavior and
the use of the alternative SSRI anti-depressants."

4. Will the FDA approve it? The company intends to proceed with a second Phase III Trial,
despite the statically significant success in the just completed trial. This would delay FDA
approval by at least a year. The company seems to understand quite well that the FDA
regularly shoots down the first application, just to prove their power and justify their
existence, I suppose, though they would say it is to be sure that all the relevant facets of the
drug's safety and efficacy emerge. So, FDA approval is a year away...

5. How big a market is there? Currently first-line treatment options for depression are
hampered by an overall poor response, less than 50%. So, it is important that "Vilazodone
has a novel mechanism of action." The Surgeon General's Office estimates that 5.3% of American
adults, approximately 17 million people, suffer from depressive illness.

6. How much revenue might this small company get? Clinical Data acquired the worldwide
rights to develop and commercialize Vilazodone from Merck KGaA of Darmstadt, Germany in September 2004.
The treatment of this illness generated sales of more than $9.75billion in antidepressants in 2004.
7. How big and close is the competition? No information.

( See: http://www.clda.com/uploads/CLDA%20Vilazodone%20Press%20Release%2003_26_07.pdf )


Looking Back A Year

A year ago the stock was languishing at 15, just at its flat 50-day ma. But it did
show rising signs of insider Buying, defined by us as an Accumulation Index current
value above .45 with a rising set of moving averages. Note how in December 2006,
that TigerSoft index jumped above the second dotted line above the base line. That
dotted line represents .50.


CLDA 2006. Note rising Accumulation Index/