Great White Sharks
and Protected Seals
Mean Big Trouble for
Swimmers at
Beautiful La Jolla Cove


Southern Califrnia Swimmers at Heightened Risk.
"Seals were here first. We are the intruders."



Seals at Children's Cove (Case Cove)

A few hundred yards south of beautiful La Jolla cove, where swimmers throng,
lies Casa Cove. It is a protected refuge for seals, the main food for Great Whites.



La Jolla Shores has had its own shark sightings, is a 1/2 mile north of La Jolla Cove and
a mile north of Childrens' Cove, where a hundred+ State protected seals nest on the beach.
See http://www.nbcsandiego.com/news/local/Great-White-Shark-Spotted-Off-La-Jolla-Shores-100769614.html


Will The "San Diego Union Tribune" Keep Us Informed?
Is it safe to swim in Southern California? If it is not, don't expect
the San Diego Union Tribune to tell us. This is "Jaws" revisited and for real.

---------------------------------------------------------------------------------------------------------------------
More and more sightings of Great White sharks are being spotted
in Southern California, especially in San Diego. See a long list here.
http://www.sharkresearchcommittee.com/pacific_coast_shark_news.htm
A swimmer was attacked and killed here by a huge Great White in 2008, 5 months after
this Blog was written.


---------------------------------------------------------------------------------------------------------------------


Nothing taps into primordial human fears more than contemplating being
attacked by a shark, especially a Great White. Potentially this has personal meaning,
as I swim regularly in the waters described here. Our local monoply daily newpaper,
the San Diego Union Tribune, comforts readers by telling them the odds of their
being attacked by a shark are "one in 300 million".
( http://www.signonsandiego.com/uniontrib/20040222/news_mz1c22odds.html )

Two days ago, TV stations in San Diego reported that a kayaker reported seeing a
shark twice as long as his 12 foot kayak. This took place 150 yards off La Jolla Cove,
where I swim regularly when the water is warmer and the waves are not too high.
( http://www.fox6.com/news/local/story.aspx?content_id=155d74b4-ef30-4cfa-87f4-397f6d0637ee&rss=800 )

Exactly like the Nantucket town fathers in Jaws I, who were more concerned
about scaring away tourists, than warning swimmers of the dangerous sightings
of a Great White, the ever venal San Diego Tribune failed to report the sighting in the paper
the next day, I looked for it. I hate to spend such 50 cents on pre-digested, slanted news.
San Diego lifeguards took it seriously, though. They have to go into the water!
They recognized that the report came from a man who was an experienced local kayaker.
They immediately sent out observer boats, helicopters and warned swimmers at La Jolla
Cove. The shark was not spotted.

Great whites are found in large populations off the the coasts of Australia, South
Africa and California. Locally, Scripps Oceanographic researchers have tagged
100 San Diego sharks. They claim that young Great White spend their early years
off the coasts of Baja and Southern California. The larger ones move to areas north
and south of San Francisco, where adults find ample seals and sea lions to feed on.



The problem with this dismissive attitude is that hundreds of
seals and sea lions now make their homes a few hundreds yards just south of La Jolla
Cove or just east of it among the caves and rocks in the heart of a marine reserve.
Casa Cove has "been taken over by seals. Seals use it as a beaching spot year round."
They used to climb upon a large a rock just offshore. But at high tide they were always
getting washed off the rock. About ten years they started coming in throngs to Casa
(Children's) Cove. Previously children and families swam there in large numbers because
of the large breakwater that keeps out waves. Despite the human protests, it was
officially decided under the Marine Mammal Protection Act that the seals had first claim
to what was once called Children's Cove. Fecal contamination from the seals has clinched
the deal. Seals now use the beach exclusively. The seals and their pups are delighted
and make great marine photography. I personally have counted 139 seals and sea lions
lying quite peacefully on the beach there a few Decembers ago. Signs are everywhere.
People are not allowed to touch, hassle, bother, bullyrag or torment them in any way.
Usually there is a rope to keep people at least 10 feet away. (Seals may and do come up
to a swimmer and play with them. This is very common.)

In saying this, I stress I am not "anti-seal. Their little faces look like dark gray
kitties with whiskers and shorter ears. They are fun to see swimming. Their agility in
the water is remarkable. One of their cute little pups used me as a rock, after he got tired or lost.
"After all, the seals were really here first. It's their home. The only reason this is
a problem, is because there is so much human intrusion elsewhere. You can't expect
them to live on just a tidal rock. Where are they are going to have their babies. Also, they
are a big tourist attraction. And there's a retirement community almost across the street.
People in wheel chairs are treated to something special. Where else can they see a
seal rookery?" These are the words of a "regular" cove swimmer who is not particularly
concerned about the added Great White danger. "Put things in perspective. Sharks
kill fewer than 20 people a year. And people have killed 20 million of them".


But Great Whites do kill people in San Diego:

In June 1959, a man was eaten just outside La Jolla cove by a Great White. For years
the press has made it seem that this attack never took place because his body was never
recovered. As a result of this orchestrated cover-up by the only daily newspaper in
San Diego, swimmers to this day will tell you that the attack is a myth. But the evidence
is overwhelming it did. I have even talked to people who were there that day. Two people,
besides the victim, witnessed and reported this shark attack. Their full account is shown
near the bottom of this page.
.
In 1994, Michelle von Emster age 25 died when a Great White shark killed her
while swimming off of Point Loma, California. Her leg was bitten off according to the
San Diego County medical examiners office. The San Diego Union Tribune mentioned
this attack ten years later, saying the woman was probably already dead (from what?)
and that the sharks were simply scavanging. More likely, she took off her clothes,
went swimming, was attacke dby the shark who mistook her for a seal, bit off her
leg and then broke off the attack. But she passed out from blood loss and shock and
then drowned.

In June 1995, a 19-year old woman was kayaking near La Jolla Cove. A shark
went underneath her kayak, striking it and causing her to fall into the water. She was
bitten in the head before her companions ina dinghy pulled her on board. From a one-inch
tooth fragment, it was judged to be a "white shark at least 10 feet long". She did not
report the attack for two weeks. She said the only thing that saver her was that she had
a helmet on. Nothing appeared in the paper about this case.
( http://calacademy.org/research/scipubs/pdfs/v57/proccas_v57_n17.pdf )
( http://www.kayaksportfishing.com/wwwboard/messages/1051.htm )

August 2003 - Tweny five liles north of La Jolla is San Onofre State Beach. Lifeguards reported
that they saw great whites almost daily in the surf zone. There were babies, only 6 to 8 feet long!
Surfers were warned and the beaches were left open.
( http://www.signonsandiego.com/news/metro/20030831-9999_2m31sharks.html )

A local weekly, the La Jolla Village News casts doubts on these known attacks, presumably
to keep the tourists coming! "These (cases) are controversial and may or may not have occurred.
It is frquently debated." Everything I see in the way of Scripps research seems to be dismissive
of the dangers posed by sharks. It is though they are "bought and paid for" by the local
Chamber of Commerce.. ( http://www.sdnews.com/vnews/display.v/ART/2006/08/17/44e4e3b7c1c4f )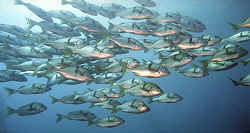 The Casa Cove seals seem content, well-fed and unlikely
to move. The fish there seem ample.




A White Shark bitten seal at La Jolla's Casa Cove.
(Source: http://friendsofthechildrenspool.com/lajollaseals_sharks.htm )
A 14'-18' Great White was seen eating a seal at La Jolla
cove in November 2002. This was reported by
Union Tribune on November 30, 2002.
( http://www.signonsandiego.com/sports/outdoors/20021130-9999_mz1s30power.html )
Others have also been seen.

White Sharks Go Where Seals Congregate

The California Fish and Game Department advises swimmers that in order
to avoid an encounter with a Great White, they should not "swim in or near areas
frequented by sea lions, harbor seals...elephant seals,,,and their rookeries..." The
growing seal population at Casa Cove clearly is increasing the risk of a shark attack
to any of he thousands who swim or dive at nearby beaches. It is significant that
shark sightings are on the rise, as are sightings of seals wounded by shark bites.





Just north of Casa is La Jolla Cove. A Great White killed
San Diego surfer shown here is swimming between two sharks.
an abalone diver here in July 1959



Swimmers swim to the 1/4 mile buoy just to the right of this picture. The Great
White attack in 1959 was just to the right of the rocks that guard the cove. I have
swum and dove with scuba tanks here hundreds of times. Once I did see a 6 foot
shark. Upon seeing me, it turned around and swam quickly away, though not as fast
I did back to shore. A half mile north of this, the ocean floor drops off to 500'.
This is called the "Canyon" Twenty years ago, at 80' depth, I saw a giant tuna at 100'
that looked like a miniature submarine. I have dove among and been circled by 6' reef
white tip sharks in Hawaii. My diving partner and I even trapped one in an underwater
cave and it swam by, only inches away. So, I know shark encounters are hardly all dangerous.
But Great White are clearly a menace. In 1984, four shark attacks took place, one of
them was fatal near Santa Cruz. In 1992 there were three more attacks among the islands
south of Santa Barbara, There are many cases where they attack humans,
possibly confusing them for seals. Will I go swimming next year when the water warms?
Yes. But, my concerns are heightened. And any more Great White sightings may
make me take up something safer, possibly hang gliding!

Great White Attack in La Jolla - 1959.

On a Sunday in June 1959, when the water temperature was probably around 58-60
degrees, the same as that near San Francisco later in the summer, Robert Pamperin, age 33,
was attacked and killed by a Great White while free diving for abalone in about 30 feet of water.
He and his diving companion, Gerald Lehrer, age 30, were about 50 yards out from La Jolla Cove.
Lehrer heard Pamperin shout. A second or so later, his friend disappeared under the surface
and the water turned red. Lehrer dove down, only to see his companion in the jaws of a shark
he reckoned to be more than 20 feet long. He saw the shark violently shaking Pamperin under water.
This is what sharks do to kill and swallow what they have attacked. The attack was also witnessed by
a man onshore He had turned when he heard the cry for HELP. This shows how close to shore
the attack was. A full account may be seen at http://www.sharkresearchcommittee.com/unprovoked_diver.htm
They catalogue Pacific Coast shark attacks.

Great White Videos

Sharks and seals in panic -
http://www.metacafe.com/watch/336740/great_white_shark/

Compare size of human and shark -
http://www.travelistic.com/video/show/7621/Great-White-Shark-Accident-in-Isla-de-Guadalupe
Sheer power - http://www.liveleak.com/view?i=210_1194202541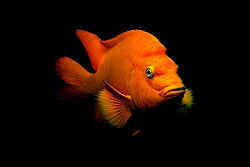 Animals To Look for at La Jolla Cove.
Garibaldi



California Leopard Sharks

Shovelnose Guitar Fish are plentiful. They can get to be close to
six feet in length and weigh in at 40 lbs. They spawn in July en masse
about 3/4 miles east of La Jolla cove on sandy bottoms in very shallow
water.


Thornback ray (Pictures from http://members.aol.com/_ht_a/shorecrab/Common_Rays.htm )

They are cute, huh?









.