Since 1981, we have been helping Professionals and the Public
around the World to Maximize Stock Profits and Avoid Devastating Declines.

Introducing the:
Automatic, Reliable, Very Profitable
Tiger Weekly Buy B12s

by William Schmidt, Ph.D. - Creator of TigerSoft and Peerless Stock Market Timing

--------------------- Speculative Stocks ----------------------
Four 2009 examples should convince you we have
somethng special here. And this is only a small
part of all that TigerSoft and Peerless offer. It
should demonstrate the value of our highly original
research, work and indicators. Many of the gains
here are staggering!

1. DDRX - Diedrich Coffee - 2 to 34!



FIRE - Sourcefire - 7 to 28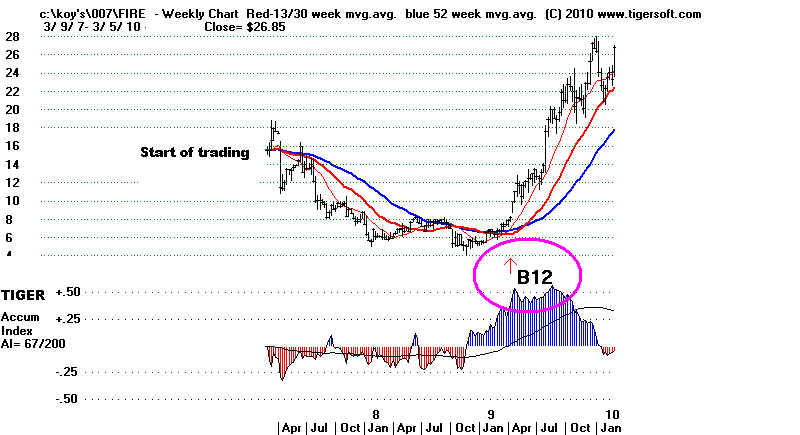 KIRK - Kirkland's - 4 to 18





DTG - Dollar General - 6 to 33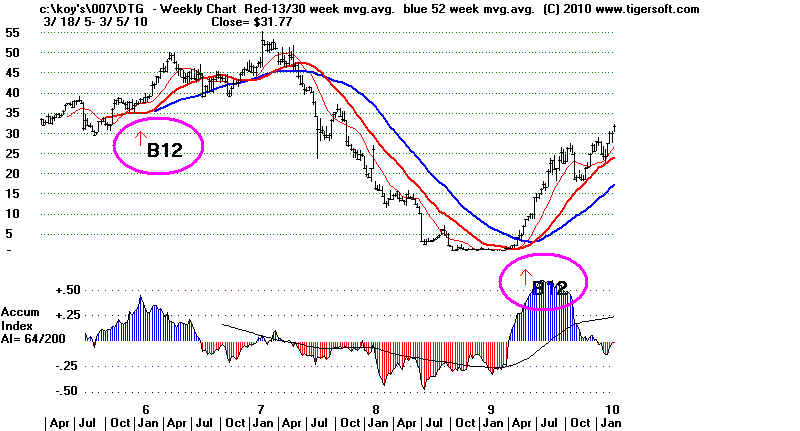 --------------------- Speculative Stocks ----------------------
Earlier era B12s also worked their magic.
Here are a few some examples.


1999-2000



2006



2007





Tiger Weekly Buy B12s:

High Caps,
Growth Stocks,
Foreign Stocks,
ETFS,
Commodities
and Currencies


We emphasize always watching for signs of
insider buying and selling. Insiders always know first. This study
shows another way to watch for Insider buying using weekly charts.
This approach permits longer term holding. And it works well with
optionable high capitalization SP-500 and NASDAQ-100 stocks, too.
This is particularly of interest because most of these stocks have
much higher liquidity and also, up to a point, are safer.


BACKGROUND

Here are rules for profiting from TigerSOft weekly charts. Rules for this are being
offered as working hypotheses. They have grown from many years' experience.
They do not always work, of course, but used consistently over some time, they
should help enormously.
See also www.tigersoftware.com/TigerBlogs/March-6-2010/index.html

In particular, we want to start screening for weekly Buy B12s. You will want to
use our weekly data and a new flagging flagging program that can dervive these
signals from daily data for all stocks, every Friday evening.

Very reliably profitable are weekly Buy B12.

These Buy B12 weekly signals occur automatically with the latest software when
the Accumulation Index past a key threshold. The signals work exceptionally well
and most reliably (>90%) when they occur with the stock still in or close to its base,
not too far above its 52-week ma and with the stock not up more than 40% in the last
10 weeks.

My study of just the NASDAQ-100 and SP-500 stocks' 5-year weekly charts show that
90% of these bring high gains using the rules discussed.

See the examples of ILF, GLD, RIMM below Note that the first is in a base. The second one
occurs with prices much more extended. We have rules that prevent us from chasing
these signals too far.

I strongly suggest studying some of the more successful Weekly Tiger B12s.

---------------------------- Country ETFs -----------------------------------
ILF - IShares S&P Latin America 40 Index