Very High Accumulation - EWZ and VWO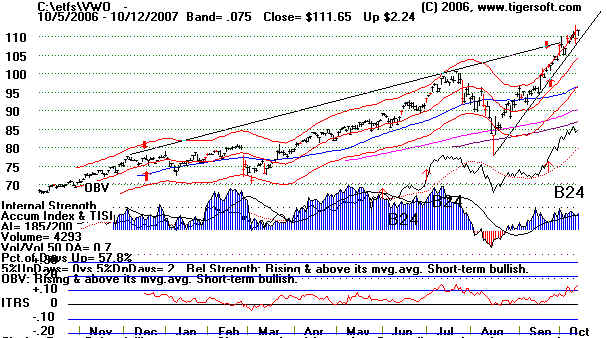 Very Low Accumulation - JOF Use the chart below for purposes of comparison.


Buy Natural Resource Stocks

Perhaps, a billion souls in India, China, Brazil, Thailand, nearly everywhere in the developing
countries are now aspiring for what Americans have taken for granted for decades: namely,
a house with indoor plumbing, central heating, a garage with a car or two cars in it, a color
TV, golf clubs in the closet ... That demand is fueling the world bull market. It is also making
natural resources rise. Look at a mutual fund that is known for playing this trend. It is close to
making another new high. That should release it for a good advance.



Here are the 10 biggest holdings of RSNRX:
| | | | |
| --- | --- | --- | --- |
| ALLEGHENY TECH NEW | ATI | 5.41 | 21.70 |
| DENBURY RES INC (HLD | DNR | 5.27 | 60.81 |
| TALISMAN ENERGY INC | TLM | 5.27 | 16.41 |
| Key Energy Services, Inc. | N/A | 4.97 | 8.63 |
| PEABODY ENERGY CORP | BTU | 4.00 | 18.93 |
| CENTURY ALUMINUM C | CENX | 3.62 | 17.92 |
| COMPANHIA VALE ADS | RIO | 3.37 | 130.03 |
| PPL CORP | PPL | 3.10 | 31.96 |
| SPECTRA ENERGY | SE | 3.05 | -9.42 |
| BROOKFIELD ASSET MGT | BAM | 3.01 | 21.04 |


Tiger's Power-Ranker excels at finding the best stocks in a particular industry
to invest in. And we provide the data by industry groups like this. Here are some of the best
oil and gas stocks now, based on a combination of relative strength and high Tiger Accumulation
Index strength. You can invest in low priced stocks that come alive late in a move and
rocket upwards, as they belatedly play catchup. CFW look like such a stock.



The easiest way to make money in this market has been to buy the most
"bullish" stocks as Tiger ranks them. Relative Strength and high Accumulation place the two
stocks below way up in the highest percentile power rankings. When 200 or 300 stocks
are screened, this is significant. We cater to individuals who see that we can put them
in a position to compete with institutions that have very fine fundamental research.

MDR - Superb OIL STOCK #1




CAM - Superb OIL STOCK #2
"Chinese Red Chips"

Aluminum is essential for a growing economy. A strong stock in a strong sector in
China's booming economu brings great stock price gains. Each time the stock
hesitates and then breaks out, it quickly advances. ACH is the Chinese Alcoa,
which is a Dow Jones blue chip.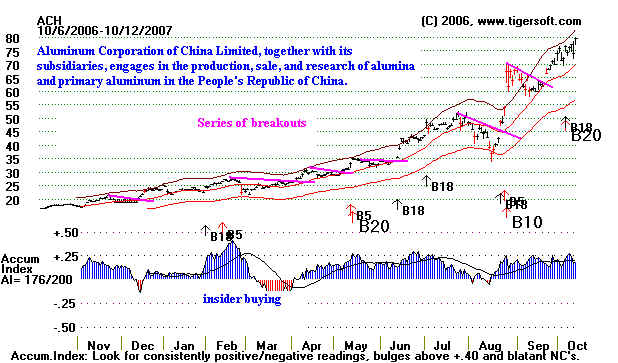 Is China A Speculative Bubble?

The Communist Party could try to prevent a bigger rise for fear that
the millionaires it creates will challenge its authority. This is often heard.
But the Chinese want to look good when the Olympics come in two years.




I recommend reading this article: http://news.goldseek.com/GoldSeek/1192118154.php