REPORT CARD ON:
TIGER'S 2004 BULLISH SPECIAL SITUATIONS

There were 109 Bullish Special Situation recommendations
from November 2003 to October 2004. The general market was
flat for most of this period. The average gain on each
was +28.0%. The stocks picked in November and December need
more chance to flower.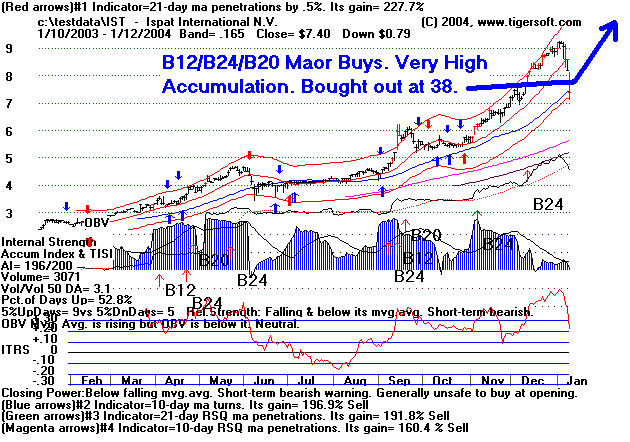 A few stocks like IST did magnificently. As I have frequently
said: "Buy more of the strongest stocks, rather than take profits
prematurely." That lesson is again seen from the data below.
The number just after the symbol (or comany name) is the "AI/200" score.
This shows how many days the Accumulation Index has been positive
of the last 200 days. Bullish special situations with an
AI/200 score less than 161 are more likely to be problematic
and not do so well, unless they have extremely high current
levels of Accumulation ("IP21). BKF was such a stock. This is
the same lesson mentioned in last year's (2003) Report Card.

2004 Bullish Special Situation stocks under $6 did relatively less well,
especially if their AI/200 score was less than 181. ZILA (-17.3%),
INKP (-20.1%) API (AI/200=160 and -45.2%) are evidence that
breakouts in low priced stocks should, for a longer term investor,
be required to have an AI/200 score above 180.

You may want to understand why the stocks were recommended.
Their graphs can be seen on our web page. More precise reasons
are mentioned below. Additional comments about this study may be provided, if time
permits.

Date Stock AI/200 Close (Closing Out Price) Percent Gain

November 2003
11/6/2003 NITE 134 14.69 (10.95 0n 12/31/2004) *** -25.4%
11/7/2003 RWAV 194 6.69 (bought out at 6.83) *** +2.1%
11/13/2003 QADI 194 13.70 (8.92 on 12/31/2004) *** -34.9%
11/14/2003 DISK 193 4.30 ...B12 (hit 2.90, 5.94 on 12/31/2004) *** +38.1%
11/20/2003 ASFI 194 15.25 (hit 14, 26.04 on 12/31/2004) *** +76.0%
11/21/2003 QADI 194 13.56 (hit 6, 8.92 on 12/31/2004) *** -34.2%
11/25/2003 ONYX 194 13.72 (Hit 6, 8.92 on 12/31/2004) *** +103.8%
11/26/2003 TIE 161 9.27 (24.14 on 12/31/2004) *** +160.0%
11/28/2003 MLS 189 43.35 (hit 38, 63.76 on 12/31/2004) *** 47.0%
Avg Gain for Month's stocks = +36.9

December 2003
12/2/2003 SKYF 199 25.91 (hit 23, 28.67 on 12/31/2004) *** +10.7%
12/5/2003 QDEL 192 9.26 (hit 3.5, now 5.08 on 12/31/2004) *** -45.1%
12/11/2003 IST 197 7.95 (bought out at 38.6) *** +385.5%
12/12/2003 PAB 198 15.57 (hit 11.5, 13.1 on 12/31/2004) *** -15.8%
12/16/2003 MAC 176 44.10 (hit 40, 62.80 on 12/31/2004) *** +42.4%
12/18/2003 AED 200 29.89 (39.91 on 12/31/2004) *** +33.5%
12/19/2003 BGG 187 34 (hit 32, 41.58 on 12/31/2004) *** +22.3%
12/23/2003 SSS 191 36.58 (hit 33, 42.14 on 12/31/2004) *** +15.2%
12/26/2003 SSS 191 36.81 (hit 33, 42.14 on 12/31/2004) *** +14.5%
12/30/2003 RSTI 190 36.12 (42.45 on 12/31/2004) *** +18.9%
Avg Gain for Month's stocks = +48.2%

January 2004
1/2/2004 QDEL Quidel Corp 199 12.10 (now 5.19)..above rising channel *** -57.1%
1/6/2004 PCP Precision Castparts 200 46.64 (hit 42, now 66.50). strong uptrend, NH, OBV NC *** +46.2%
1/8/2004 FMC FMC Corp. 189 35.03 (hit 34, now 49.02)...Confirmed new high. *** +39.9%
1/9/2004 SKYF Sky Financial 200 26.59 (hit 23, now 28.5) ...Breakout confirmed. *** +7.2%
1/8/2004 FMC FMC Corp. 189 35.03 (hit 34, now 49.02)...Confirmed new high. 39.9% *** +39.9%
1/10/2004 SNA Snap-On Intern. 198 33.62 (hit 27, now 34.24) New high with OBV NC *** + 1.8%
1/16/2004 SLGN Silgan Holdings 178 44.80 (hit 39.5, now 61.35) strong uptrend. B12 *** + 36.9%
1/23/2004 MAA Mid-America Apt. 200 33.95 (hit 31, now 41.10) Strong confirmed uptrend. *** + 21.1%
1/30/2004 STN Station Casinos 179 35.01 (hit 58, now 55.70) Breakout confirmed. *** +59.1%
Avg Gain for Month's stocks = +21.7%
February 2004
2/3/2004 MAA Mid-America Apt. 200 34.915 (hit 31, now 41.10) Breakout confirmed. *** +11.7%
2/6/2004 DGII Digi International 191 11.35 (hit 8.8, now 17.02) Breakout confirmed. *** + 50.0%
2/10/2004 DGII Digi International 191 11.77(hit 8.8, now 17.02) Breakout confirmed. *** + 44.6%
2/12/2004 INKP Inkine Pharm. 180 6.53 (hit 3.5, now 5.22) Breakout confirmed. *** -20.1%
2/13/2004 CLRS Clarus Corp. 200 8.30 (hit 7, and 12.75, now 8.75) Breakout over 8.6 needed. *** +5.4%
2/25/2004 DGII Digi International 191 11.49 (hit 8.8, now 17.02) Strong Uptrend. *** +48.1%
2/27/2004 CLRS Clarus Corp. 200 8.39 (hit 7, and 12.75, now 8.75) Breakout over 8.52 needed *** +4.3%
Avg Gain for Month's stocks = +20.6%
March 2004
3/2/2004 UFCS United Fire & Casualty 21.80 (now 34) *** +56.0%
3/4/2004 CLRS Clarus Corp. 200 8.67 (hit 7, and 12.75, now 8.75) Breakout confirmed. *** 0.9%
3/5/2004 UWN 200 15.91(hit 21, then 10, now 12.49) top of price channel. *** - 21.5%
3/12/2004 SSS Sovran Self Storage 200 40 (hit 33, now 42.54) above top of channel. *** +6.4%
3/16/2004 IST Ispat Intern. 191 9.40 (Bought out @ 38.6 on 12/17/2004) Confirmed breakout. (Classic) *** 310.6%
3/18/2004 IST Ispat Intern. 191 9.65 (Bought out @ 38.6 on 12/17/2004) Confirmed breakout. (Classic) *** 300.0%
3/19/2004 SSS Sovran Self Storage 200 40.05 (hit 33, now 42.54) Declining Flag breakout *** +6.2%
3/23/2004 UWN 200 17.20 (hit 21, then 10, now 12.49) horizontal flag breakout. *** -27.4%
3/25/2004 CLRS Clarus Corp. 200 9.69 (hit 7, and 12.75, now 8.75) Breakout confirmed. B24 *** -9.7%
3/26/2004 FLDR Flanders Corp. 196 6.30 (hit 6, and 10, now 9.63) Back above 50-dma. *** +52.9%
3/30/2004 OFC Corporate Office Props. 24.73 (hit 19, now 28.67) At top of risding channel. *** +15.9%
Avg Gain for Month's stocks = +62.8%

April 2004
4/1/2004 RDK Ruddick Corp. 198 20.97 (hit 19, now 21.97) Breakout not confirmed by OBV *** +4.8%
4/2/2004 IST Ispat Intern. 193 11.49 (Bought out at 38.6 on 12/17/2004) Confirmed new high. *** +235.9%
4/8/2004 SHI Shanghai Petrochemical 190 53.12 (hit 54, then 26, now 36.98) Breakout not confirmed by OBV *** -30.4%
4/15/2004 BKF Baker 110 27.03 (hit 25, now 36.34) very high IP21... *** +34.4%
4/16/2004 CLDN Celadon Group 185 17.25 (hit 14, now 22.38)...Breakout confirmed. *** +29.7%
4/22/2004 CD Cendant Corp 188 24.98 (hit 14, now 22.80) Strong uptrend. *** -8.7%
4/23/2004 API Advanced Photonix 160 3.21(now 1.76) Breakout confirmed...B12 *** -45.2%
4/27/2004 STFC State Auto Financial 186 26.99 (hit 25, now 26.10) Breakout confirmed. *** -3.3%
4/30/2004 PTC PAR Techn. 189 11.37 (hit 8.5, now 11.30) Strong uptrend. B12 *** -0.1%
Avg Gain for Month's stocks = +24.1%

May 2004
5/4/2004 BKF Baker 110 28.59 (hit 25, now 36.34) very high IP21...Confirmed breakout. *** +27.4%
5/6/2004 ONXX Onyx Pharm. 170 58.25 (hit 60, then 30, now 33.24) ...Breakout not confirmed.*** -42.9%
5/7/2004 CLRS Clarus Corp. 200 11.45 (hit 7, and 12.75, now 8.75) *** -23.6%
5/11/2004 CLRS Clarus Corp. 200 11.86 (hit 7, and 12.75, now 8.75) Breakout was confirmed. *** -26.2%
5/14/2004 PAS PepsiAmericas 198 21.39 (hit 18.5, now 21.30) Breakout confirmed. B24 *** -0.4 %
5/20/2004 ZILA Zila 180 4.99 (hit 5.5, then 3.5, now 4.125) uptrend. *** -17.3%
5/20/2004 DGII Digi International 180 10.15 (hit 8.8, now 17.02) *** +67.7%
5/21/2004 IST Ispat International 193 12.50 (Bought out at 38.6 on 12/17/2004) Breakout confirmed. B12 *** 208.8%
5/27/2004 PAS PepsiAmericas 198 21.25 (hit 18.5, now 21.30) *** +24.3%
Avg Gain for Month's stocks = +24.2%

June 2004
6/4/2004 NUCO NuCo2 181 19.84 (hit 16 and then 25, now 22.54) *** +13.6%
6/8/2004 FLDR Flanders 200 9.28 (hit 10.5, then 8.3, now 9.63) Breakout B12,B10,B20, B24 *** +3.8%
6/10/2004 IST Ispat International 193 13.25 (Bought out at 38.6 on 12/17/2004) Breakout confirmed. *** +191.3%
6/17/2004 VIDE Video Display 160 10.74 (hit 18, now 12.36) New high confirmed. B12 *** +15.1%
6/18/2004 VVN 183 16.55 (hit 14, then 18, now 17.20) Breakout confirmed. *** +3.9%
6/22/2004 PDYN Paradyne Networks 177 5.30 (hit 3.5, now 3.68) Breakout confirmed. B12 *** -30.6%
6/22/2004 WFMI Whole Foods Market 150 91.97 (hit 75, now 93.39) at top of channel. *** +1.5%
6/25/2004 PLRE 161 21.72 (hit 17.5, now 19) Breakout new high confirmed. B24 *** -12.5%
Avg Gain for Month's stocks = +23.3%

July 2004
7/1/2004 VVN 183 16.80 (hit 14, then 18, now 17.20) Breakout confirmed. B24 *** +2.4%
7/2/2004 VVN 183 16.97 (hit 14, then 18, now 17.20) Breakout confirmed. B24 *** +1.4%
7/9/2004 CAW 160 10.25 (hit 7, now 11.47) Breakout confirmed. *** +11.9%
7/20/2004 PROG 197 8.11 (hit 8, now 13.51) Up from 50-day ma. *** +66.6%
7/22/2004 AEN 168 19.10 (bought out at 19.5) Breakout confirmed. Gap. B24 *** +2.1%
7/23/2004 EEFT 186 23.0 (hit 16, now 26.65) *** +15.9%
7/29/2004 ZEUS 185 22.33 (hit 18, now 29.90) Confirmed breakout. B10. B24 *** +33.9%
7/30/2004 OCLR 161 44.13 (hit 50.5, now 49.23) Confirmed breakout. B12 *** +11.6%
Avg Gain for Month's stocks = +18.2%

August 2004
8/3/2004 BPT 187 38.85(hit 33, now 47.62) Confirmed breakout. *** +22.6%
8/5/2004 IST 194 23.76 (Bought out at 38.6 on 12/17/2004) Running, lots of accumulation.*** +62.5%
8/6/2004 IST 194 24.74 (Bought out at 38.6 on 12/17/2004) Running, lots of accumulation.*** +56.0%
8/10/2004 AEPI 197 10.29 (hit 10, now 14.55) at support and rising 200 day ma.*** +41.4%
8/13/2004 KWIC 189 7.33 (hit 8.3, now 7.5) now at resistance. *** +2.3%
8/20/2004 TUNE 200 4.83 (hit 4.25, now 6.45) Breakout confirmed. B20. *** +33.5%
8/24/2004 HA Hawaiian Airl. 196 6.15 (hit 8.6, now 6.70) downtrend break. rising 50-dma.*** +8.9%
8/26/2004 MSS Measurement Specialties 174 24.24 (hit 22, now 25.45) Breakout confirmed. B24 *** +5.0%
8/27/2004 MSS Measurement Specialties 175 24.18 (hit 22, now 25.45) Breakout confirmed. B24 *** +5.3%
8/31/2004 BNI Burlington North & Santa Fe 199 35.80 (hit 49, now 46.75) Uptrend confirmed. +30.6%
Avg Gain for Month's stocks = +26.8%

September 2004
9/2/2004 BNI Burlington North & Santa Fe 199 36.44 (hit 49, now 46.75) Breakout confirmed. B24 +28.3%
9/3/2004 MAXC Maxco 197 3.90 (hit 5.5, now 4) Breakout confirmed. *** +2.6%
9/7/2004 CASA Mexican Restaurants ? 8.10 (hit 9.5, now 8.26) Breakout confirmed. B24 *** +2.0%
9/9/2004 KWIC Kennedy Wilson 193 7.75 (hit 8.3, now 7.5) Strong uptrend. B24 ***-3.2%
9/10/2004 PLP Phosphatre Resource 166 3.33 (hit 3.5, now 3.03) *** -9.0%
9/14/2004 TUNE 200 5.38 (hit 4.25, now 6.45) Strong Uptrend. NH not confirmed by OBV. B24 *** +19.9%
9/16/2004 BRG BG PLC 200 32.35 (hit 35, now 34.35) *** +6.2%
9/17/2004 PROG 180 10.04 (hit 8, now 13.51) Breakout confirmed. *** +34.6%
9/21/2004 PEO Petroleum & Resource Fund 163 25.80 (hit 27.5, now 25.64) Breakout confirmed. B24 *** -0.6%
9/24/2004 AEPI AEP Industries 200 10.68 (hit 10, now 14.55) *** +36.2%
9/28/2004 PEO Petroleum & Resource Fund 156 26.66 (hit 27.5, now 25.64) Running. B20 *** -3.8%
Avg Gain for Month's stocks = +10.3%

October 2004
10/1/2004 ARKR Ark Restaurants 180 27.07(now 34.80) Confirmed Breakout B24 *** +28.6%
10/5/2004 CNF CNF Transportation 159 44.63 (hit 43, now 50.22) Confirmed Breakout *** +12.5%
10/8/2004 PWI 181 22.64 (hit 23, now 21.88) Confirmed Breakout B24 *** -3.4%
10/20/2004 UHAL 167 38.23 (hit 49, now 45.17) Strong uptrend after B24. *** +18.2%
10/21/2004 BNI Burlington North & Santa Fe 199 40.97 (hit 49, now 46.75) Uptrend confirmed. *** +14.1%
10/22/2004 KWIC Kennedy Wilson 195 7.20 (hit 8.3, now 7.5) At rising 30 wkma B24 *** +4.2%
10/26/2004 EPIC Epicor Software 151 15.21 (hit 16, now 14.24) B12 with prices below high of 18. -6.4%
10/29/2004 UHAL 177 40.38 (now 45.17) Breakout not confirmed by OBV. *** +11.9%
Avg Gain for Month's stocks = +10.0%

November 2004
11/2/2004 DISK 192 5.68 (hit 6.5, now 5.75) Breakout confirmed. B24.*** +1.2%
11/4/2004 AED Banco de A. Edwards 177 37.84. (now 39.76) Confirmed breakout. B24 *** +5.1%
11/5/2004 CLDN Celadon Group 193 21.27 (now 22.30) Confirmed breakout. B24 *** +4.8%
11/9/2004 AED Banco de A. Edwards 177 38.60. (now 39.76) Confirmed breakout. B24 *** 3.0%-
11/11/2004 DISK 192 5.84 (hit 6.6, now 5.75) Breakout confirmed. B24. *** -1.5%
11/12/2004 NUCO NuCo2 191 21.90 (hit 25, now 22.54) *** +2.9%
11/18/2004 GOT Gottschalks 187 8.0 (hit 9, now 8.12) Breakout confirmed. B12,B10,B20,B24 *** +1.5%
11/19/2004 ALSK 163 8.32 (hit 9.6, now 8.94) Breakout confirmed. B12,B10,B20, B24 *** +7.5%
11/23/2004 DISK 195 6.36 (hit 6.6, now 5.75) Confirmed breakout. B24 *** -9.6%
11/26/2004 SMMX 124 31.15 (now 31.51) Confirmed breakout. B12 *** +1.2%
11/30/2003 BRG BG PLC 199 35.19 (now 34.35) At top of uptrend channel. *** -2.4%
Avg Gain for Month's stocks = +1.3% (Give these a chance to run!)

December 2004
12/3/2004 WLT Walter Industries 163 26.10 (now 33.53) Running wildly. B12 *** +28.5%
12/10/2004 LAWS Lawson Products 172 49.91 (now 50.06) Breakout confirmed. B24 *** +0.3%
12/14/2004 MANC Manchester Equipm. 153 8.0 (now 9.46) Breakout confirmed. B10,B20, B24 *** +18.3%
12/16/2004 AEPI AEP Industries 198 13.74 (now 14.55)Breakout confirmed. B24 *** +5.9%
12/17/2004 MANC Manchester Equipm. 153 7.95 (now 9.46) Breakout confirmed. B10,B20, B24 *** +19.0%
12/21/2004 EWO 200 22.75 Strong uptrend.(now 23.02) B24 *** +1.9%
12/23/2004 MLS 160 62.34 Breakout. (now 62.82) B24 *** +0.8%
12/28/2004 MANC Manchester Equipm. 153 9.46 Breakout confirmed. B10,B20, B24
Avg Gain for Month's stocks = +10.6% (Give these a chance to run!)